Worthington Steam Air Compressor Engine and Project History
The CB&Q Railroad purchased this engine from the Worthington Pump and Machinery Corporation in 1918 for a total installed price of $23,027. The engine was installed in the steam locomotive shops in Havelock, Nebraska (now a part of northeast Lincoln). The engine was installed along with two smaller steam powered compressors to provide compressed air for the entire shop complex. The two smaller compressors were later replaced by two electric compressors. The engine was operable until 1989 as a backup for these compressors and did see occasional duty when they needed repairs.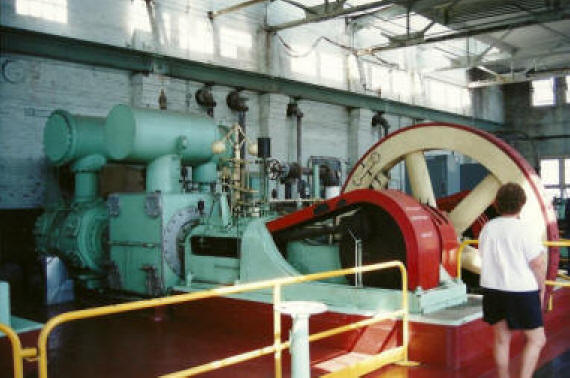 This is the Worthington compressor as it appeared in the Havelock shops power house in the late 1980's
In 1992 the engine was donated to the Camp Creek Threshers thanks to the efforts of Bob Janecek, a founding member of the organization and Burlington Northern Railroad employee. The engine was then disassembled and moved to the Camp Creek Threshers show grounds near Waverly, Nebraska in 1993. The engine was placed in storage while efforts were begun to erect a building to house it for display and operation. The building was finally completed and in 1999 the first activity in restoring the engine was begun. Weather sensitive pieces such as the steam cylinders and smaller items were moved inside the building that fall. Plans and preparations were also begun for the construction of the concrete foundation for this engine. This was a challenging task since the original foundation blueprints and erection drawings were lost long ago. Several trips were taken to the Havelock shops to study and measure the original foundation. Further details of the process of designing the engine foundation are presented in the "Stationary Steam Engine Foundation Design" section of this site.
A brief pause was taken in the project when the organization had the opportunity to acquire another stationary steam engine, an Allis-Chalmers Corliss generator as well as a Cleaver-Brooks boiler to provide steam for the exhibit. Finally in the fall of 2000 the hole was excavated for the Worthington foundation. Throughout the year of 2001 the foundation was constructed. This required 4 separate pours of concrete totaling nearly 80 cubic yards.
As of this writing the engine is finally nearing completion. Currently work is progessing on the final details such as the lubrication system, installation of the exhaust steam line, and final painting and assembly. If all goes well, the current goal is to have the engine in an operational state by the end of 2010, or early 2011. All that would be needed then is a source of steam!
We invite you to check back at this site occasionally as it will be updated as phases of the project are completed. In the meantime we invite you to look at the other sections relating to this engine and the other projects for this exhibit.